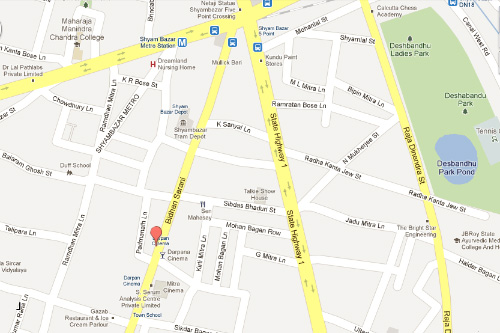 Note: this place is not the origin of Ghoshals (

click to enlarge

)
Origin of Ghoshal

Sudhanidhi- He came from Tadik Village, Kanya Kubja with Adisur, King of Gaud. They arrived at Paundra Bardhan City, Capital of Gaud. King Bhusar Son of King Adisur, was dethroned and left Paundra Bardhan.
He made his new Capital "Suranagar" in the land of Radha. He brought with him Chandod, Sri Harsha, Bhattanarayan, Daksha and Bedagarva.

These five Brahmins stayed in the land of Radha so they were known as Radiya Brahmin. The others who lived in Barendra land are known as Barendra. Son of Chandod was Suravi who began to live in Ghoshal village, hence he became GHOSHAL

Shri. Apurba Krishna Ghoshal Moved to Shyambazar (Calcutta) from 'Ariadaha', in 1944 and started living at 134/3A, Bidhan Sarani, Kolkata 700004. His son Prof. Arup Kumar Ghoshal lived here till his life, his family now living at the same residence.